Making healthy diet and lifestyle choices
In addition to taking CREON to help manage your EPI (exocrine pancreatic insufficiency), you may also need to make changes to daily diet and lifestyle habits that affect your health. Work with your doctor to create a plan that is right for you.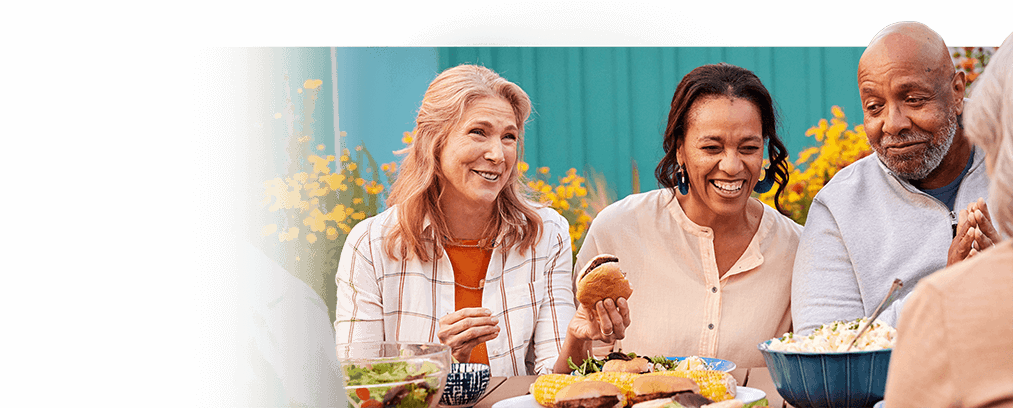 Healthy eating with EPI
Everyone should eat a healthy, balanced diet. But because EPI affects how well you absorb nutrients, it's even more important that the food you eat has lots of nutrients. You also need to remember to take your CREON with every meal and snack because CREON replaces the enzymes your pancreas no longer makes, helping you break down food.
Don't forget to talk to your doctor or nutritionist about what you're eating while you're taking CREON. They'll help you make sure your diet meets your nutritional needs. The
will help you keep a record of what you're eating and how you're feeling. Make sure to share this information with your doctor or nutritionist during your next appointment.

Capsules shown are not actual size and do not represent actual color shade.
Taking vitamins and supplements
With EPI, getting all the vitamins you need may take more than just eating well. To maintain proper levels of the fat-soluble vitamins A, D, E, and K, your doctor may prescribe vitamin supplements in addition to CREON. Take them as directed by your doctor as part of your individual plan to manage EPI.
, you may be able to receive multivitamins and nutritional products at no charge.†

Keeping a healthy diet with EPI and cystic fibrosis (CF)
People with EPI due to CF need to take a pancreatic enzyme replacement therapy (PERT) like CREON. Additionally, they need to eat foods high in fats, calories, proteins, and other nutrients.
This does not mean people with EPI due to CF should eat unhealthy foods like french fries covered in cheese. Proper food intake needs to be well balanced at meals and snacks. Maintaining a healthy diet doesn't mean sacrificing taste. If you don't already have a nutritionist or registered dietitian as part of your CF care team, talk to your doctor about adding one. A registered dietitian can help you develop a nutrition plan that contains foods that taste great, are healthy, and help meet your calorie needs.

It's important to adopt healthy habits that go beyond a well-balanced diet. Consider lifestyle modifications such as limiting how much alcohol you drink and quitting cigarette smoking.
Answers to frequently asked questions
†Eligibility: Available to patients with commercial prescription insurance coverage for CREON who meet eligibility criteria. Copay assistance, vitamins and nutritional supplements, if any, are not available to patients receiving prescription reimbursement under any federal, state, or government-funded insurance programs (for example, Medicare [including Part D], Medicare Advantage, Medigap, Medicaid, TRICARE, Department of Defense, or Veterans Affairs programs) or where prohibited by law. Offer subject to change or discontinuance without notice. Restrictions, including monthly maximums, may apply. This is not health insurance.