CFCareForward
Support for people with EPI due to cystic fibrosis (CF)
CFCareForward offers support and resources to people with EPI (exocrine pancreatic insufficiency) due to CF and their caregivers. If you're ready to get started, sign up today.
CFCareForward benefits include:

With the CFCareForward savings card, you may pay as little as $0 for your 30- or 90-day prescription of CREON.*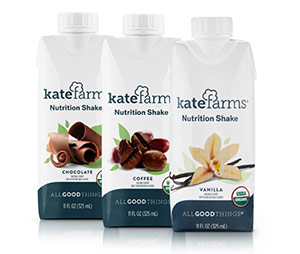 Multivitamins and nutritional supplements*
A variety of multivitamin products specifically for CF patients–from infant to adults–and quality nutritional supplements are delivered monthly at no cost.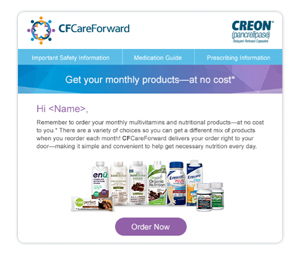 Educational emails
Get timely updates on savings opportunities, tips for taking CREON, and information on EPI, digestion, and nutrition.
CFCareForward also offers:
Helpful CREON refill reminders
Sign up to receive notifications letting you know when it's time to refill your CREON prescription and reorder multivitamins and nutritional products.
Support hotline
Call 1-855-CARE4WD (1-855-227-3493) for assistance with CFCareForward registration, co-pay enrollment, multivitamin and nutritional product orders, and more.
*Terms and Conditions apply. Eligibility: Available to patients with commercial insurance coverage for CREON who meet eligibility criteria. Offers not available to patients receiving reimbursement under any federal, state, or government-funded insurance programs (for example, Medicare [including Part D], Medicare Advantage, Medigap, Medicaid, TRICARE, Department of Defense, or Veterans Affairs programs) or where prohibited by law or by the patient's health insurance provider. If at any time a patient begins receiving drug coverage under any such federal, state, or government-funded healthcare program, patient will no longer be able to use the CREON Co-pay Savings Card or to receive multivitamins and nutritional supplements and patient must call 1-855-CARE4WD to stop participation. Patients residing in or receiving treatment in certain states may not be eligible. Patients may not seek reimbursement for value received from the CFCareForward Program from any third-party payers. Offer subject to change or discontinuation without notice. Restrictions, including monthly maximums, may apply. By enrolling and redeeming these offers, you acknowledge that you are an eligible patient and that you understand and agree to comply with the terms and conditions of these offers. To learn about AbbVie's privacy practices and your privacy choices, visit
 For CREON Co-Pay Savings Card, the benefit covers CREON only. Subject to all other terms and conditions, the maximum annual benefit that may be available solely for the patient's benefit under the co-pay assistance program is $8,000.00 per calendar year. The actual application and use of the benefit available under the co-pay assistance program may vary on a monthly, quarterly, and/or annual basis, depending on each individual patient's plan of insurance and other prescription drug costs. This assistance offer is not health insurance. For multivitamins and nutritional supplements, patients need to discuss products that may be provided through this program with a qualified healthcare professional before using them. Offer subject to availability of multivitamins and nutritional supplements and does not constitute an entitlement.
Educational and community support for patients living with CF

Answers to frequently asked questions